ProductContent
Christmas Tree Lot: Eastern Firs Essential Oil Blend
$
35.00
You Save:

$-35.00

(100%)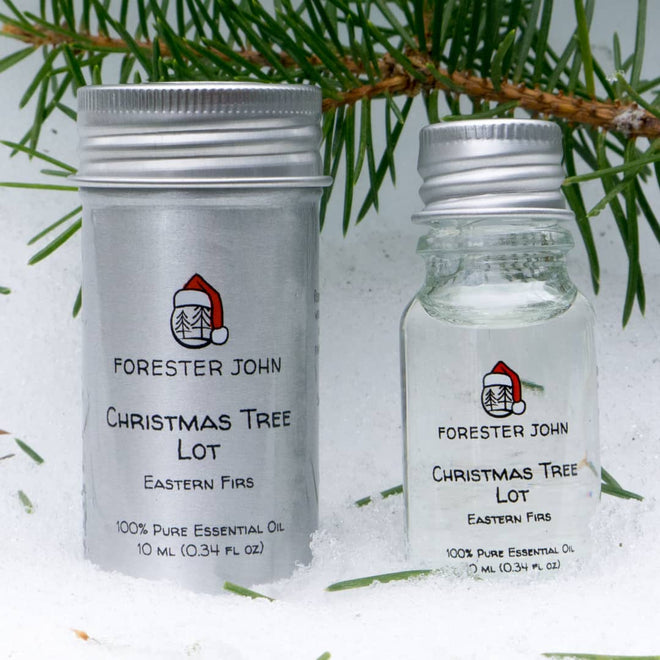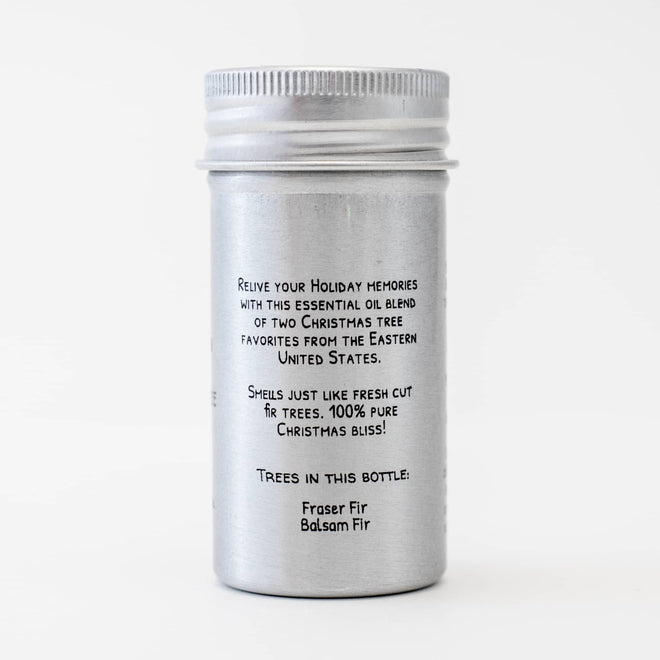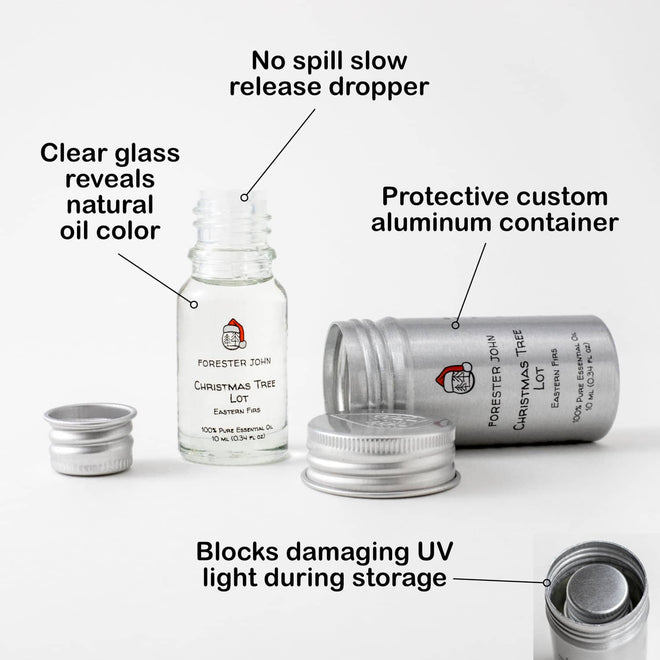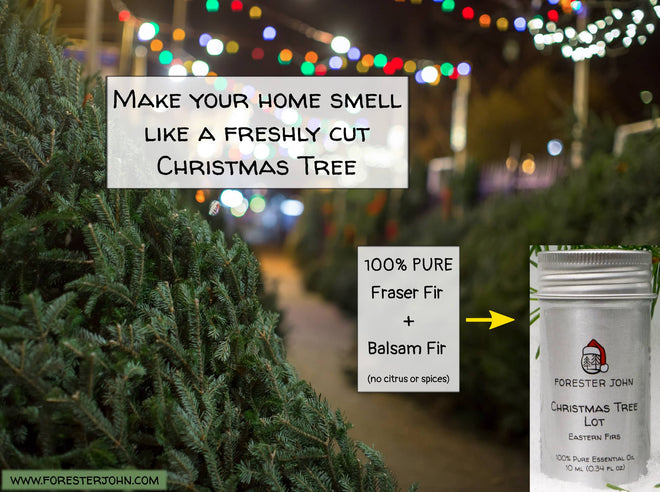 Christmas Tree Lot: Eastern Firs Essential Oil Blend
$
35.00
You Save:

$-35.00

(100%)
Product Description
Description

Info

Use

Shipping
Description
Make Your Home Smell Like a Freshly Cut Christmas Tree
Are you looking for the best smelling Christmas essential oil blend during the holidays?
Introducing Christmas Tree Lot - Eastern Firs by Forester John.
Imagine the smell of fresh evergreen fir trees as you walk down the aisle at your local Christmas tree lot.
This essential oil blend contains two popular Christmas trees that can be found in tree lots throughout the Eastern United States: Fraser fir and balsam fir.
The oils were extracted directly from the needles and bark of the trees. You are literally smelling them as if they are right in front of you!
The sweet and fragrant notes of Fraser fir complement perfectly the fresh and clean notes of balsam fir.
To top it off, I included a touch of balsam fir bark essential oil to give you the woody notes of a freshly cut Christmas tree.
If you are looking for a smell of ginger, citrus, or other holiday spices then this Christmas blend is not for you.
If you want the clean and fresh scent of Christmas fir trees, then you are in luck.
What you get is 100% pure Fraser fir essential oil and balsam fir essential oil.
The result is PURE and clean Christmas BLISS.
Bring your artificial Christmas tree alive and infuse your home with holiday cheer.
This blend is only available for sale between Thanksgiving Day and New Year's. That's it.
Get yours while supplies last.
Snuggle up to the fireplace, grab a cup of hot cocoa and enjoy the real smell of Christmas.
Cheers!
-Forester John ↟
Info
Ingredients:
Fraser Fir (Abies fraseri)
Balsam Fir (Abies balsamea)
100% PURE Undiluted Essential Oil
Specs:
Volume: 10 ml
Drops per bottle: ~250
How the essential oil was made:
Through a process called steam distillation.
Hot steam is forced through needles and branches, thereby pulling out aromatic compounds from the plant into a collecting tube, where the steam is cooled and condensed back into a liquid form of essential oil.
What you'll receive:
A refreshing Christmas tree scent! Your essential oil will be in a clear glass bottle with a slow-release vertical dropper.
The bottle will be in a custom aluminum carry-tube to keep it safe from breaks and to eliminate exposure to UV, keeping your essential oil fresher longer.
Use
General Use:
The most common use is for aromatics. Diffuse in your essential oil ultrasonic diffuser of choice. Start with 5 drops of essential oil per 100 ml of water and adjust up or down from there.
Google "essential oil diffuser" and you will get a ton of options, including on Amazon, for under $30. 
If using topically, dilute with a carrier oil such as jojoba, argan, sweet almond, or coconut. A good starting point is 12 drops per 10 ml ( 4% solution).
Use Around Pets:
Cats are especially sensitive to essential oils and you should always be cautious if you use near pets. Most resources I have seen say you can diffuse low doses of essential oil as long as your pet can leave a well-ventilated space.
Consult with your veterinarian if you have concerns.
Caution:
Possible skin sensitivity. Keep out of reach of children. If you are pregnant, nursing, or under a doctor's care, consult your physician. Avoid contact with eyes, inner ears, and sensitive areas
Shipping
Shipping Info:
FREE SHIPPING when you order $49 or more.
All other orders ship for $4.00.
All products ship from St. Paul, MN via USPS First Class or Parcel Select.
Typical transit times to the East and West Coasts are 2 to 3 days.
Fresh and clean scents
Wonderful scents that are fresh, clean, and just the. right blend. I can close my eyes and return to the forest in Acadia or the Smokeys. I will be ordering again.
Christmas Tree Lot
I was pleasantly surprised! I've been trying to find an essential oil that smells like a Christmas tree for several years- this one does not smell artificial at all!! Customer service is absolutely amazing too!!! I texted Forester John with a few questions prior to purchase and he got back to me immediately! I was very impressed! I highly recommend this company!!
Not Really What I Expected
I have 75 Christmas `s under my belt. Being from New England, and spending thousands of hours in the woods, camping, photographing and Kayaking, I know what a Balsam tree should smell like. The scent of the Balsam is unmistakable. To most of us, that small takes you back to another time, a better time. A friend in New Hampshire told me about your oils and she raved about the Christmas Tree Lot oil. I went ahead and purchased it. The little bottle arrived today. When I opened the cap and took a sniff, the smell was that of cut branches and bark but not even a hint of the sweet balsam fir I was expecting. I heated up a small amount of water in a clean diffuser and added two drops of the oil. After a short time, the smell of fresh cut branches and other scents came through. I did not find them pleasant. On many occasions I have taken the resin from the blisters of a balsam and used it for a topical balm for minor scrapes and cuts. It also makes an excellent fire starter for a tinder bundle with a wonderful smell. Like you I have collected many types of resin from may conifers in New England. I heat them in a diffuser for amazing smells.
I will say this about the oil you offer. It does smell as you say it does. If people are looking for the raw smell of cut pine
branches , bark and other parts of the tree, then this is what they will get. In that respect the oil is pure but not for me.
Ken S.
Love this scent!
I ordered Christmas Tree Lot for myself and a family member. For those of us who don't decorate a real tree, this is a game changer! Scents from other companies smell fake and I can't tolerate them, throwing them in the trash almost as quickly as I buy them. Using these essential oils brings the outdoors inside! Love this! :)
True smell of the forest
This year my Noble Fir Tree was a beautiful shape, but had absolutely no natural smell. That's half of Holiday feeling in our home. I found the Forested
John product and added it to potpourri and other items to hang on tree and around the house. It worked wonderfully. I felt like I was walking in a fresh, evergreen forest every time I entered then took where our tree stands. Guests wanted to kniw where i had purchased my wonderful smelling tree. They were surprised and pleased when I showed them my Forester John essential oil. We are all going to be looking for Fraser For trees in our area since we think drought conditions are affecting the Nobles. But, we all now know we have this natural oil we can count on. Thank you for your product.
Christmas Tree Lot
This scent really does remind me of Christmas tree lots with that slight wood scent to it. Not sweet like so many others are.