ProductContent
Acadia National Park: Maritime Conifer Forest Essential Oil Blend
$
33.00
$0.00
You Save:

$-33.00

(100%)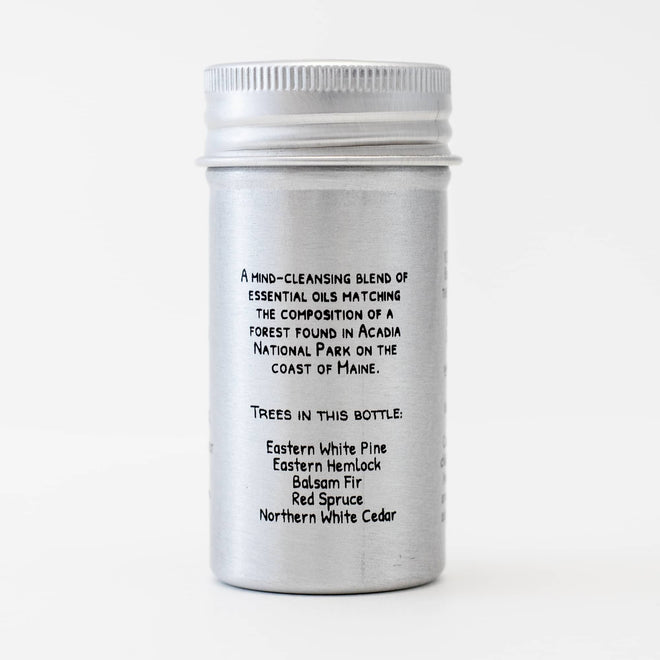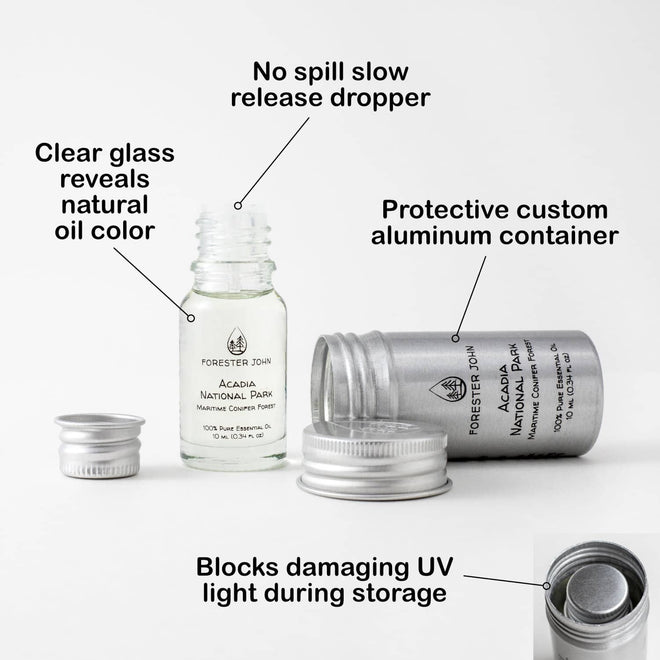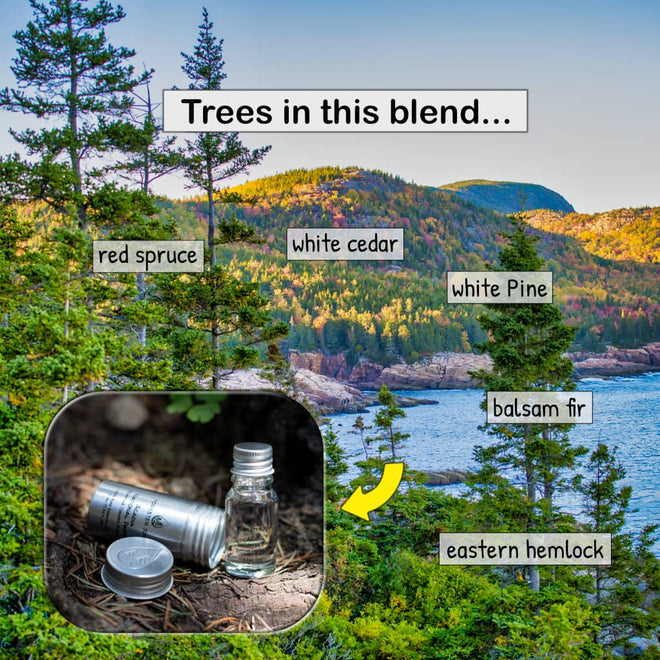 Acadia National Park: Maritime Conifer Forest Essential Oil Blend
$
33.00
$0.00
You Save:

$-33.00

(100%)
Product Description
Description

Info

Use

Shipping
Description
The Nostalgia of Acadia Awaits You
Where the fog, mist, lush green forests, rocky shorelines, fresh air, and the Atlantic Ocean all come together in one majestic place.
This woodsy essential oil blend captures the spirit of it all.
The Acadia National Park Maritime Conifer Forest essential oil blend contains the same trees that grow together naturally in the park.
Unique to this essential oil blend is the strong presence of Eastern hemlock and Eastern white pine trees that reign supreme on Mount Desert Island.
There is also some red spruce, balsam fir, and northern white cedar trees mixed in to accurately replicate this forest.
The result is a fresh-smelling essential oil forest blend that is in a league of its own and available nowhere else on the planet.
Think back to your visit, close your eyes and let the serenity of Acadia National Park brighten your day.
-Forester John ↟
Info
Ingredients:
Eastern White Pine (Pinus strobus)
Eastern Hemlock (Tsuga canadensis)
Balsam Fir (Abies balsamea)
Red Spruce (Picea rubens)
Northern White Cedar (Thuja occidentalis)
100% PURE Undiluted Essential Oil
Specs:
Volume: 10 ml
Drops per bottle: ~250
How the essential oil was made:
Through a process called steam distillation.
Hot steam is forced through needles and branches, thereby pulling out aromatic compounds from the plant into a collecting tube, where the steam is cooled and condensed back into a liquid form of essential oil.
What you'll receive:
A nostalgic and fresh forest scent! Your essential oil will be in a clear glass bottle with a slow-release vertical dropper.
The bottle will be in a custom aluminum carry-tube to keep it safe from breaks and to eliminate exposure to UV, keeping your essential oil fresher longer.
Use
General Use:
The most common use is for aromatics. Diffuse in your essential oil ultrasonic diffuser of choice. Start with 5 drops of essential oil per 100 ml of water and adjust up or down from there.
Google "essential oil diffuser" and you will get a ton of options, including on Amazon, for under $30. 
If using topically, dilute with a carrier oil such as jojoba, argan, sweet almond, or coconut. A good starting point is 12 drops per 10 ml ( 4% solution).
Use Around Pets:
Cats are especially sensitive to essential oils and you should always be cautious if you use near pets. Most resources I have seen say you can diffuse low doses of essential oil as long as your pet can leave a well-ventilated space.
Consult with your veterinarian if you have concerns.
Caution:
Possible skin sensitivity. Keep out of reach of children. If you are pregnant, nursing, or under a doctor's care, consult your physician. Avoid contact with eyes, inner ears, and sensitive areas
Shipping
Shipping Info:
FREE SHIPPING when you order $49 or more.
All other orders ship for $4.00.
All products ship from St. Paul, MN via USPS First Class or Parcel Select.
Typical transit times to the East and West Coasts are 2 to 3 days.
Preserving the Beauty and Ecological Vitality of Acadia
Awesome!
We LOVE Forester John's scents! We use them almost nightly in our humidifier and the smell of Acadia National Park fills our home each night. Hoping FJ will come out with a Tetons oil!
Hey Tillifinney! I am so happy you are loving the scents! I would love a Grand Teton blend! I have the trees and forest picked out. If I find a reputable distiller it will happen ;) Thanks for the review! - Forester John ↟
Acadia
I have spent Summers in Acadia, hiking, running. I chose this scent because I wanted to experience the great evergreen trees, forest area once again. Did not disappoint. Thank you for the great memories.
Acadia National Park
This is a beautiful scent, strong enough for everybody. The bottles are beautifully packaged and inside tins with an easy screw-on lid.
Beautiful products. So thankful for them!
Acadia
I chose this sent because it had a very woody smell. It gave my house a forestry feel. Thanks for developing these scents.
Thank you!
Transforming!!
Having spent time touring the forest and seashore of Acadia, I was extremely pleased to find that I could obtain, and re-experience the fragrance of Acadia. This is an amazing replication of the forest and look forward to ordering this again when I run out!! Thank you.
Hey Bill! I am glad you like it! It is often my favorite blend and reminds me of Acadia forests as well :) - Forester John ↟