ProductContent
Sweden: Spruce-Pine Taiga Forest Essential Oil Blend
$
31.00
You Save:

$-31.00

(100%)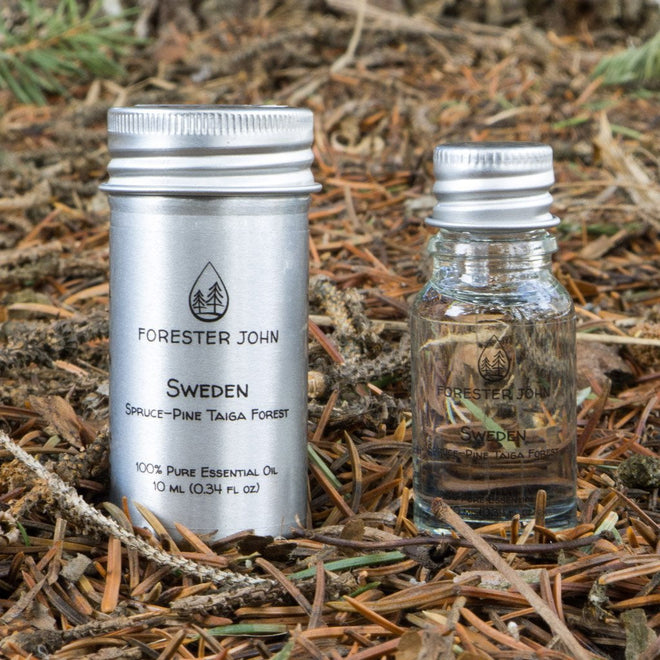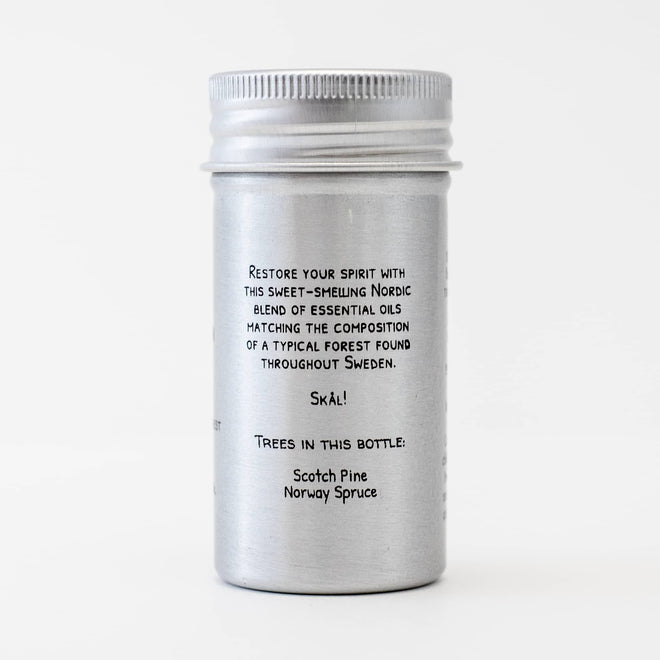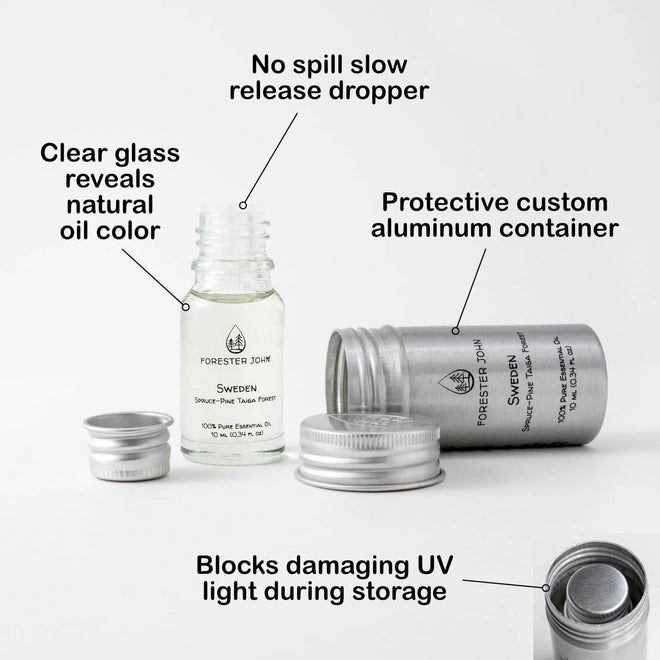 Sweden: Spruce-Pine Taiga Forest Essential Oil Blend
$
31.00
You Save:

$-31.00

(100%)
Product Description
Description

Info

Use

Shipping
Description
Take a Mind Cleansing Walk in the Woods
Restore your spirit with this pine-spruce essential oil blend that is crafted to mimic the vast taiga forests that cover a large portion of Sweden.
This forest is consistently dominated by two conifer trees: Scotch pine and Norway spruce.
The upper notes of the Scotch pine scent are mellowed out by the sweet-smelling aroma of the Norway spruce.
The result is pure Scandinavian bliss reminding you of a walk in the woods.
Skål!
-Forester John ↟
Info
Ingredients:
Scotch Pine (Pinus sylvestris)
Norway Spruce (Picea abies)
100% PURE Undiluted Essential Oil
Specs:
Volume: 10 ml
Drops per bottle: ~250
How the essential oil was made:
Through a process called steam distillation.
Hot steam is forced through needles and branches, thereby pulling out aromatic compounds from the plant into a collecting tube, where the steam is cooled and condensed back into a liquid form of essential oil.
What you'll receive:
A Scandavian piney scent! Your essential oil will be in a clear glass bottle with a slow-release vertical dropper.
The bottle will be in a custom aluminum carry-tube to keep it safe from breaks and to eliminate exposure to UV, keeping your essential oil fresher longer.
Use
General Use:
The most common use is for aromatics. Diffuse in your essential oil ultrasonic diffuser of choice. Start with 5 drops of essential oil per 100 ml of water and adjust up or down from there.
Google "essential oil diffuser" and you will get a ton of options, including on Amazon, for under $30.
If using topically, dilute with a carrier oil such as jojoba, argan, sweet almond, or coconut. A good starting point is 12 drops per 10 ml ( 4% solution).
Use Around Pets:
Cats are especially sensitive to essential oils and you should always be cautious if you use near pets. Most resources I have seen say you can diffuse low doses of essential oil as long as your pet can leave a well-ventilated space.
Consult with your veterinarian if you have concerns.
Caution:
Possible skin sensitivity. Keep out of reach of children. If you are pregnant, nursing, or under a doctor's care, consult your physician. Avoid contact with eyes, inner ears, and sensitive areas
Shipping
Shipping Info:
FREE SHIPPING when you order $49 or more.
All other orders ship for $4.00.
All products ship from St. Paul, MN via USPS First Class or Parcel Select.
Typical transit times to the East and West Coasts are 2 to 3 days.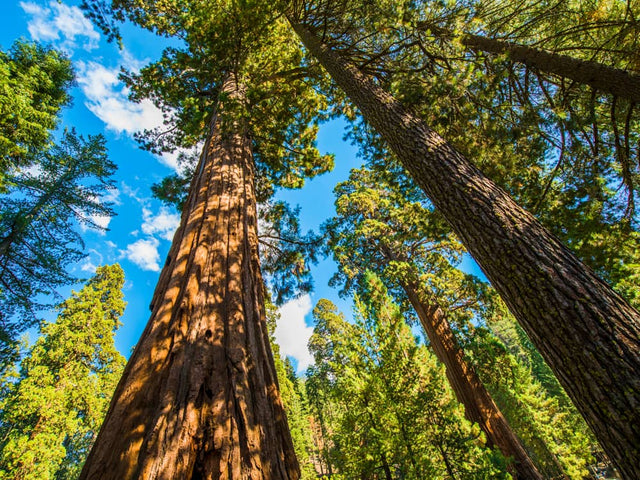 Protecting and Enhancing Our National Parks
A very satisfied customer
A high-quality product, packaged simply with sustainability in mind. Excellent customer communication and service. I will purchase from this company again.
Perfect
I have always had a deep connection to nature, and the use of Sweden is an escape from thr concrete jungle and a jump back in time to my childhood running through the forest, exploring, discovering new and wonderful things that the forest has to offer. This is the first one I've tried and can't wait to explore the fantastic fragrance of many forests to come. On the fence to buy, Don't just buy one scent... buy the whole collection and be swept away to a much better and slower time. Relax in the woods when you can't visit them. You won't regret it!
Unfreakingreal
My home is in California but my mind and heard are always drifting off into the woods. I was a long time YL oil user but they didn't have enough woody options so I gave Forester John a try. I bought the sampler and Sweden in full size. No words. This stuff is MAGICAL. You can tell a lot of heart, detail, and went into making these. Is has become my November daily routine. Best ever.
Thank YOU so much for the kind review Rania! I am thrilled that you are enjoying them :) - Forester John ↟
Wonderful
After trying out a lot of essential oils that smelled like chemicals or cleaning products I am pleased to say that this one is AWESOME! I really appreciate the thought that went into crafting a complex and realistic forest smell. The packaging is very recyclable and that was very cool to see too. I feel that this business really stands by respecting and enjoying forests and I would totally recommend!
Thank YOU for taking the time to write a thoughtful review Anna! - Forester John ↟
Still our favorite
We love using this oils in our humidifier...makes the house smell great and might even be a bit of immunity boost...we'll be a customer for life
Hi John. I am so glad you like the oils! Studies show that phytoncides from trees, also in essential oils, give us an immunity boost. :) - Forester John ↟
Pleasant Surprise
Pine and spruce trees are two of my favorite forest scents and Sweden doesn't disappoint. Finally found diffuser oils that smell like forests instead of chemicals.
Thanks again for the review Terry! - Forester John ↟