ProductContent
Essential Oil Forest Sampler Pack: Forester John
$
23.00
You Save:

$-23.00

(100%)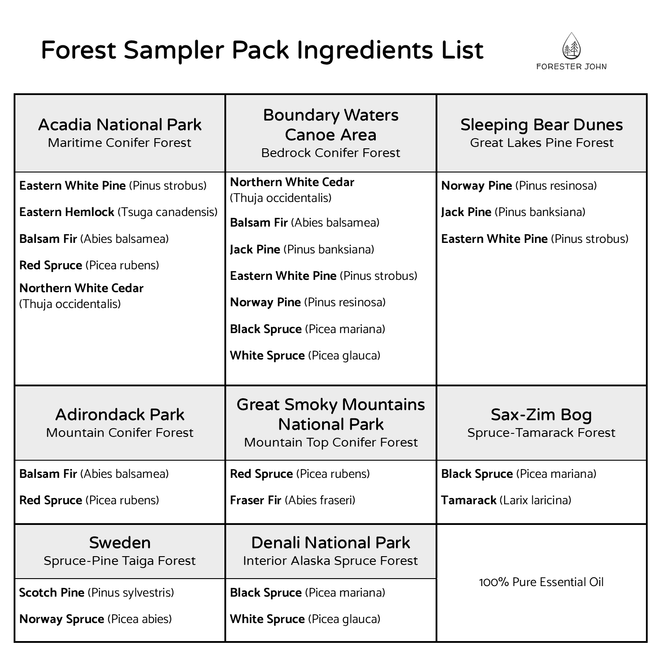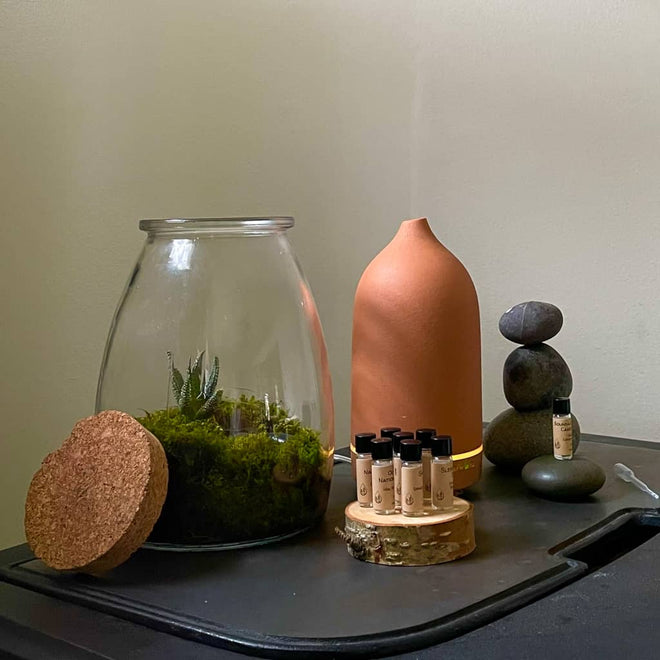 Essential Oil Forest Sampler Pack: Forester John
$
23.00
You Save:

$-23.00

(100%)
Product Description
Description

Info

Use

Shipping
Description
Not sure which forest to try first?
Introducing the Essential Oil Forest Sampler Pack by Forester John.
You'll receive 8 different fresh & woodsy scented essential oil blends, 1.75 ml each, in a clear glass bottle. Included are 3 plastic pipettes to dispense the oils as desired.
8 forests + 14 different trees, all for only $23! ($4 shipping)
(plus 2 free water bottle stickers)
You'll love them 💚
Info
List of Forests:
Acadia National Park: Maritime Conifer ForestAdirondack Park: Mountain Top Conifer Forest
Boundary Waters Canoe Area: Bedrock Conifer Forest
Denali National Park: Alaska Spruce Forest
Great Smoky Mountains National Park: Mountain Top Conifer
Sax-Zim Bog: Spruce-Tamarack Forest
Sleeping Bear Dunes: Great Lakes Pine Forest
Sweden: Taiga Forest
All blends contain 100% PURE and undiluted essential oils.
Use
General Use:
The most common use is for aromatics. Diffuse in your essential oil ultrasonic diffuser of choice.
Start with 5 drops of essential oil per 100 ml of water and adjust up or down from there. Rinse the pipette with water and let air dry between use. 
Google "essential oil diffuser" and you will get a ton of options, including on Amazon, for under $30. 
If using topically, dilute with a carrier oil such as jojoba, argan, sweet almond, or coconut. A good starting point is 12 drops per 10 ml ( 4% solution).
Use Around Pets:
Cats are especially sensitive to essential oils and you should always be cautious if you use near pets. Most resources I have seen say you can diffuse low doses of essential oil as long as your pet can leave a well-ventilated space.
Consult with your veterinarian if you have concerns.
Caution:
Possible skin sensitivity. Keep out of reach of children. If you are pregnant, nursing, or under a doctor's care, consult your physician. Avoid contact with eyes, inner ears, and sensitive areas
Shipping
Shipping Info:
FREE SHIPPING when you order $49 or more.
All other orders ship for $4.00.
All products ship from St. Paul, MN via USPS First Class or Parcel Select.
Typical transit times to the East and West Coasts are 2 to 3 days.
buy now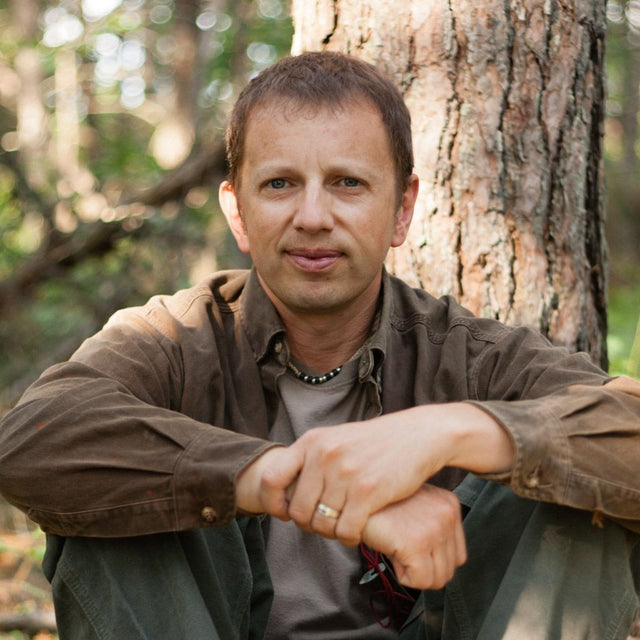 Who is Forester John?
I grew up in Minneapolis, MN and have always had a deep connection with the forest ever since I was a young boy.
I was a professional forester and worked in the woods for over 18 years.

My work and play have brought me to forests from the west coast of Washington to the eastern tip of Maine.
Today, I still work in the forestry profession but spend my work day stuck in a cubicle instead of the forest.
This is a big reason why this product exists today.
I missed the forest. I needed a way to drift away from my desk.
Hence, Forester John Essential Oils began.
Enjoy ;)
- Forester John ↟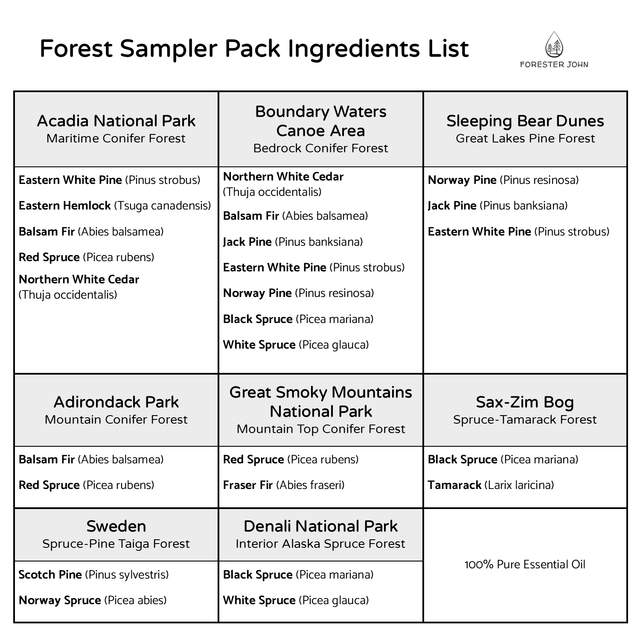 Which Forest is Calling You?
Every Forester John blend contains the same tree species mix that occurs naturally in each forest.
For example, the Adirondack Park Mountain Conifer Forest blend contains balsam fir and red spruce essential oil, the same two trees that grow together naturally in the upper elevations of Adirondack Park. 
Use Demo with Ultrasonic Diffuser
Place 5 drops of the essential oil in the water then turn on your ultrasonic diffuser of choice!
Fantastic!
These blends are fantastic! I have been trying to locate blends that capturing distinct woodlands of this quality. The sampler pack is well worth the price. I have a few that I really love. I am going to order the Olympic National Park blend now and will get the North Cascades as soon as it becomes available.
Great work John!
Hi Paul! Thanks for the nice review. Glad you like them :) - Forester John ↟
Forest oils
Quality oils, beautiful natural scents, like driving thru national forest with sun shining on branches.
Smells great!
The oils came quick and were packaged with care.
They smell incredible, will definitely order again.
Relaxing!
My sister first sent me these essential oils. Every night I use these in my diffuser to relax and fall asleep . The smell reminds me of hiking in nature. Love them all!
takes me camping when i can't physically go
i am in love with these oils. i got the sampler to find my favorite one to buy a big bottle of to use in my diffuser.. the only issue i have run into is the fact that i love ALL of them. ill be buying more as soon as these run out, but a little goes a long way. i honestly couldn't be more pleased with my purchase.
What I've been searching for a long while!
I live in the Appalachian Mountains and love hiking, and I've literally told friends "I wish I could take this forest smell and put it in my house." I never thought this was possible without using toxic, artificial smells. I kept going through different options but nothing really came close. I stumbled upon Forester John from a Reddit post, and thought it wouldn't hurt to try,
I emailed John to ask if the essential oils are pure with nothing added to them, and John replied very quickly that yes, they are pure with no additives.. I got the sample pack, and WOW! I couldn't believe I had finally found what I had been looking for in a scent! I use them on a diffuser and it fills the space with fresh forest smell, and I even added some to a DIY cologne with some Vetiver and it smells GREAT!
My favorites from the sample pack are the Sweden (even though I've never been to Sweden, ha!) and Acadia National Park. I'm looking forward to getting some full-sized ones! Thanks for making these smells a reality, Forester John!