ProductContent
North Cascades National Park: Subalpine Parkland Forest
$
44.00
You Save:

$-44.00

(100%)
North Cascades National Park: Subalpine Parkland Forest
$
44.00
You Save:

$-44.00

(100%)
Product Description
Description

Info

Use

Shipping
Description
A Forest Scent Like No Other
No other essential oil on the market has put together these four Pacific Northwest trees.
In the upper elevations of North Cascades National Park in Washington, you will find a forest of Pacific Silver Fir, Yellow Cedar, Subalpine fir, and Mountain Hemlock.
The trees often grow in scattered patches with open meadows in between mimicking a park-like setting.
The forest scent starts off with sweet and woody sub tones of yellow cedar and finishes with vibrant spicy tones of fir and hemlock. You will also notice a touch of citrus smell.
It is unlike any other forest blend I have tried.
After one whiff you will hear your mind say "I am at peace".
Enjoy!
-Forester John ↟
Info
Ingredients:
Pacific Silver Fir (Abies amabilis)
Yellow Cedar (Cupressus nootkatensis)
Subalpine Fir (Abies lasiocarpa)
Mountain Hemlock (Tsuga mertensiana)
100% PURE Undiluted Essential Oil
Specs:
Volume: 10 ml
Drops per bottle: ~250
How the essential oil was made:
Through a process called steam distillation.
Hot steam is forced through needles and branches, thereby pulling out aromatic compounds from the plant into a collecting tube, where the steam is cooled and condensed back into a liquid form of essential oil.
What you'll receive:
An amazing forest scent! Your essential oil will be in a clear glass bottle with a slow-release vertical dropper.
The bottle will be in a custom aluminum carry-tube to keep it safe from breaks and to eliminate exposure to UV, keeping your essential oil fresher longer.
Use
General Use:
The most common use is for aromatics. Diffuse in your essential oil ultrasonic diffuser of choice. Start with 5 drops of essential oil per 100 ml of water and adjust up or down from there.
Google "essential oil diffuser" and you will get a ton of options, including on Amazon, for under $30.
If using topically, dilute with a carrier oil such as jojoba, argan, sweet almond, or coconut. A good starting point is 12 drops per 10 ml ( 4% solution).
Use Around Pets:
Cats are especially sensitive to essential oils and you should always be cautious if you use near pets. Most resources I have seen say you can diffuse low doses of essential oil as long as your pet can leave a well-ventilated space.
Consult with your veterinarian if you have concerns.
Caution:
Possible skin sensitivity. Keep out of reach of children. If you are pregnant, nursing, or under a doctor's care, consult your physician. Avoid contact with eyes, inner ears, and sensitive areas
Shipping
Shipping Info:
FREE SHIPPING when you order $49 or more.
All other orders ship for $4.00.
All products ship from St. Paul, MN via USPS First Class or Parcel Select.
Typical transit times to the East and West Coasts are 2 to 3 days.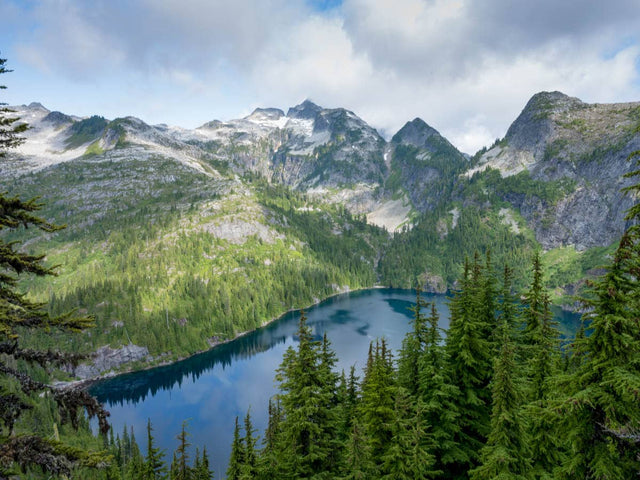 Enhancing North Cascades National Park
More than satisfied!
This is the third product I have purchased from Forester John. They have all been high quality essential oils and the scents are able to transport a person to the calm ambience of a forest. They have come in a timely manner and the customer service is wonderful. Including a kind little note from Forrester John. Thanks!
Transport Yourself to the Forest
All of these reviews are correct! This oil smells exactly like the forest. I finally found these authentic oils and am very happy. Breathe in these scents and you will be transported to the Forest, too. So calming and also refreshing.
PNW in a bottle
The North Cascades is a great essential oil for almost any time. I use it regularly for yoga, meditation and at bedtime. It's really grounding for me. Great for stressful video conference calls. I also recommend Olympics National Park. John has a great little business with excellent customer service. Thanks.
Authentic scent
This essential oil is very grounding, makes me feel like I'm in my local woods, and beats the winter blues. Thank-you!
Lovely Oils!!
I have ordered the Forester John sampler pack oils twice now and they are such a treat. They are high quality essential oils and smell wonderful! I definitely highly recommend these unique and fragrant oils.
My latest order was the North Cascades National Park blend and again I am very pleased with the product.
North Cascades National Park
This brings me back to the hikes taken in North Cascades National Park. The combination of the four species is unique.