ProductContent
Great Smoky Mountains National Park: Mountain Top Conifer Forest
$
34.00
You Save:

$-34.00

(100%)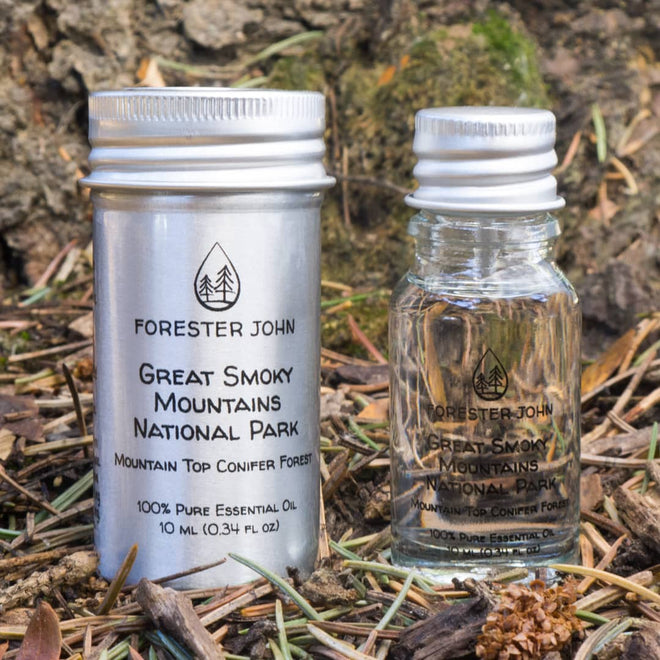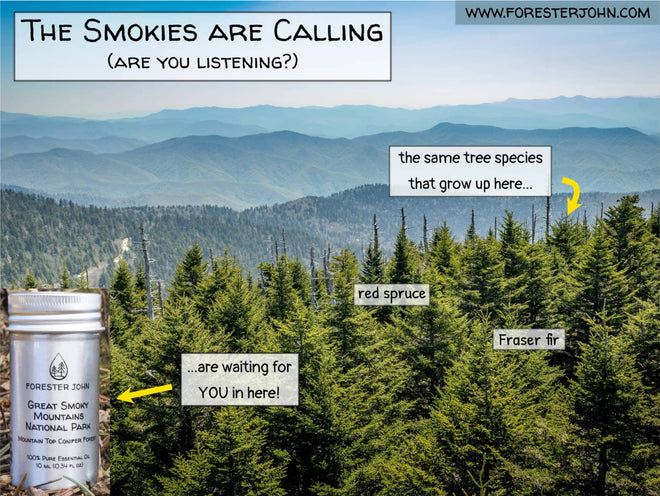 Great Smoky Mountains National Park: Mountain Top Conifer Forest
$
34.00
You Save:

$-34.00

(100%)
Product Description
Description

Info

Use

Shipping
Description
Bring the Smokies Home!
Great Smoky Mountains National Park is by far the most visited National Park in America.
It is situated in the Appalachian Mountains on the border between Tennessee and North Carolina.
It is on these mountain tops you will find some of the only natural Fraser fir forests in North America.
At about 6,000 feet above sea level, the climate is more like that of northern Maine.
At this elevation the vast hardwood forests that dominate most of the park transition into a dense mix of Fraser fir and red spruce trees.
A perfect example is on top of Clingmans's Dome, the highest peak in the park.
The fresh and fragrant smell of Fraser fir complements perfectly the woodsy and sweet scent of red spruce.
The result is a crisp forest scent that will undoubtedly make you feel at home again.
Will you answer the call?
Enjoy;)
-Forester John ↟
Info
Ingredients:
Fraser Fir (Abies fraseri)
Red Spruce (Picea rubens)
100% PURE Undiluted Essential Oil
Specs:
Volume: 10 ml
Drops per bottle: ~250
How the essential oil was made:
Through a process called steam distillation.
Hot steam is forced through needles and branches, thereby pulling out aromatic compounds from the plant into a collecting tube, where the steam is cooled and condensed back into a liquid form of essential oil.
What you'll receive:
A crisp and fresh forest scent! Your essential oil will be in a clear glass bottle with a slow-release vertical dropper.
The bottle will be in a custom aluminum carry-tube to keep it safe from breaks and to eliminate exposure to UV, keeping your essential oil fresher longer.
Use
General Use:
The most common use is for aromatics. Diffuse in your essential oil ultrasonic diffuser of choice. Start with 5 drops of essential oil per 100 ml of water and adjust up or down from there.
Google "essential oil diffuser" and you will get a ton of options, including on Amazon, for under $30.
If using topically, dilute with a carrier oil such as jojoba, argan, sweet almond, or coconut. A good starting point is 12 drops per 10 ml ( 4% solution).
Use Around Pets:
Cats are especially sensitive to essential oils and you should always be cautious if you use near pets. Most resources I have seen say you can diffuse low doses of essential oil as long as your pet can leave a well-ventilated space.
Consult with your veterinarian if you have concerns.
Caution:
Possible skin sensitivity. Keep out of reach of children. If you are pregnant, nursing, or under a doctor's care, consult your physician. Avoid contact with eyes, inner ears, and sensitive areas
Shipping
Shipping Info:
FREE SHIPPING when you order $49 or more.
All other orders ship for $4.00.
All products ship from St. Paul, MN via USPS First Class or Parcel Select.
Typical transit times to the East and West Coasts are 2 to 3 days.
can't/won't live without it!
I'm a country mouse living in the city, and every time I use forester john oils I'm immediately brought back to my best memories out in the woods and mountains, hiking, camping, living -- 100% peace and joy. Every time.
Hey Jennique! I am so happy these oils bring you back to your happy place! Your review made my day. All the best to YOU! - Forester John ↟
Wonderful Product!
Your essential oils are the highest quality scents that brings the forest to you. I close my eyes and I am back in the forest enjoying the sights, sounds and of course 'smell' thanks to your product. I intend to purchase all blends of each Park and Forest. I hope you look to expand the line to other forests and National Parks.
Thanks for the review Paul! I am very happy these bring you back to the forest! I have so many ideas of other forests and National Parks to blend. It is a challenge to find a reputable distiller who makes the pure oils of different tree species I would need. As I find them there will be more blends ;) - Forester John ↟
Fresh
This oil smells so fresh! It's not as earthy as I expected after reading others reviews. However it does bring to mind a crisp mountain morning. I just wish it had that earthy undertone as well. Perhaps John can recommend another that has both.
Great Smoky Mountains National Park: Mountain Top Conifer Forest
I am sorry but this product did nothing for me. My relatives were born in the Smoky Mountains, right in the middle of them. I have been back frequently. This product smells like and old musty basement where the heat has been by fuel oil for the last 100 years.
Hi John. Oh my! I used to live in an old house with a fuel oil heater in the basement :O. So sorry this did not work out for you. Thanks for taking the time to write the review! - Forester John ↟
Waking up in a luxury campsite!!
I just LOVE these oils!! The Smoky Mountain blend is put into my diffuser each night and I wake up smelling the scent of my favorite thing, hiking in a National Park! A great way to start my day since I can't be in a park daily!! Highly recommend this and the other oils!!!
Smokey Mountain Blend
I love how the scent reminds me of the forest while at home and at work! I use a candle diffuser which keeps the scent for hours. Thank you! I'll definitely be back for more and have already been telling others and sending them your way.