ProductContent
Sleeping Bear Dunes: Great Lakes Pine Forest Essential Oil Blend
$
34.00
You Save:

$-34.00

(100%)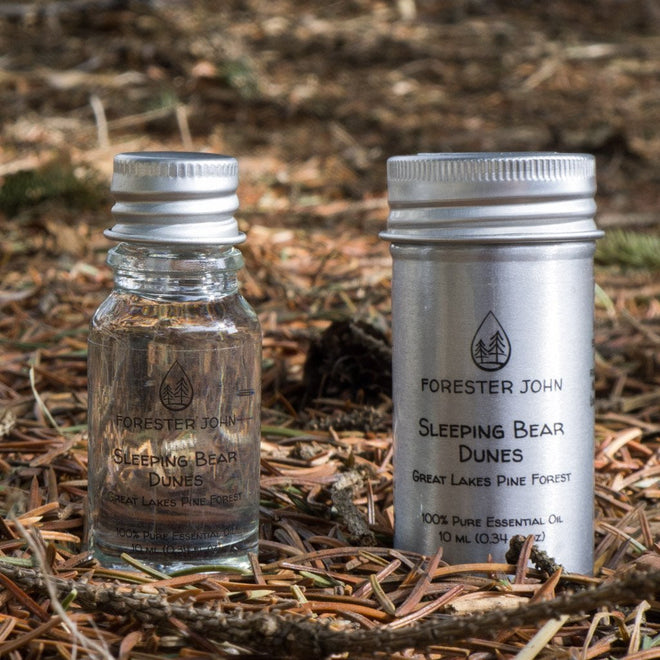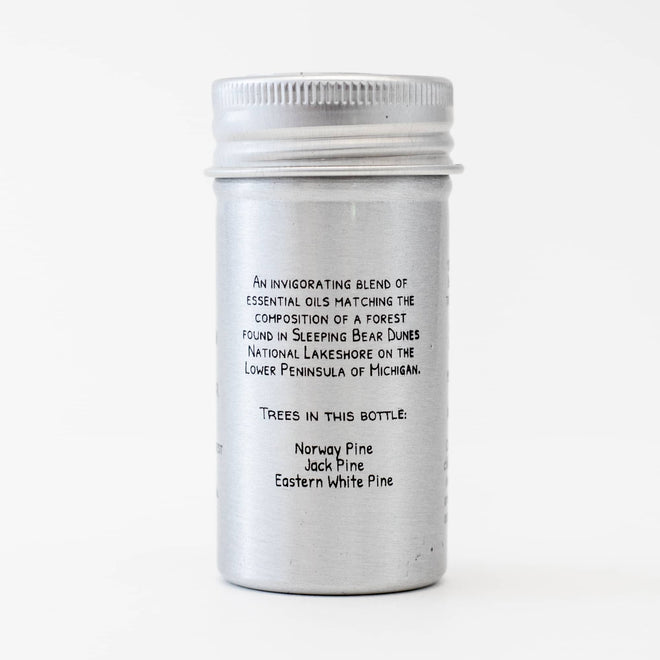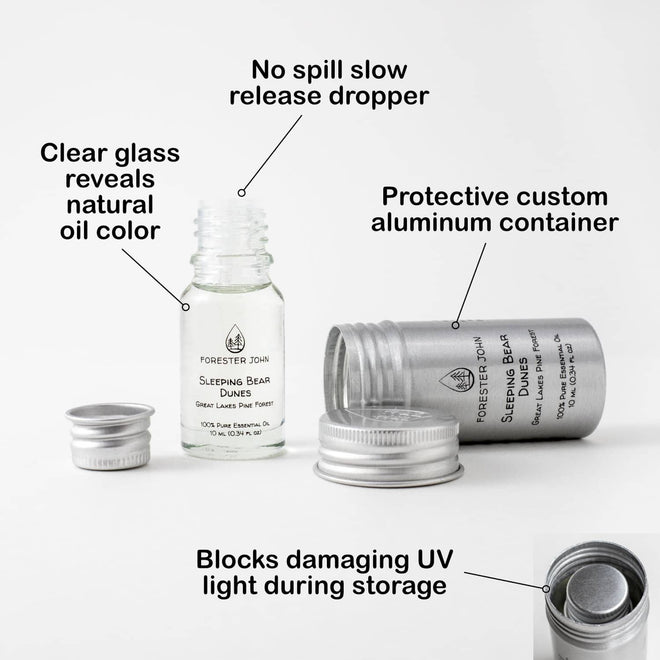 Sleeping Bear Dunes: Great Lakes Pine Forest Essential Oil Blend
$
34.00
You Save:

$-34.00

(100%)
Product Description
Description

Info

Use

Shipping
Description
Invigorate Your Soul
If you have been longing for the aroma of a pine scented forest look no further than the Sleeping Bear Dunes - Great Lakes Pine Forest essential oil blend.
Simply put it is the best pine smelling essential oil on the market.
This invigorating blend of essential oil was inspired by the sand-loving pine forests that you will find growing in portions of Sleeping Bear Dunes National Lakeshore on the Lower Peninsula of Northern Michigan.
The trees in this forest consist of a mix of Norway pine, jack pine, and white pine.
The high notes of the white pine blend perfectly with the low and sweet undertones of the Norway pine and jack pine.
You are welcome;)
-Forester John ↟
Info
Ingredients:
Norway Pine (Pinus resinosa)
Jack Pine (Pinus banksiana)
Eastern White Pine (Pinus strobus)
100% PURE Undiluted Essential Oil
Specs:
Volume: 10 ml
Drops per bottle: ~250
How the essential oil was made:
Through a process called steam distillation.
Hot steam is forced through needles and branches, thereby pulling out aromatic compounds from the plant into a collecting tube, where the steam is cooled and condensed back into a liquid form of essential oil.
What you'll receive:
A sweet pine scent! Your essential oil will be in a clear glass bottle with a slow-release vertical dropper.
The bottle will be in a custom aluminum carry-tube to keep it safe from breaks and to eliminate exposure to UV, keeping your essential oil fresher longer.
Use
General Use:
The most common use is for aromatics. Diffuse in your essential oil ultrasonic diffuser of choice. Start with 5 drops of essential oil per 100 ml of water and adjust up or down from there.
Google "essential oil diffuser" and you will get a ton of options, including on Amazon, for under $30.
If using topically, dilute with a carrier oil such as jojoba, argan, sweet almond, or coconut. A good starting point is 12 drops per 10 ml ( 4% solution).
Use Around Pets:
Cats are especially sensitive to essential oils and you should always be cautious if you use near pets. Most resources I have seen say you can diffuse low doses of essential oil as long as your pet can leave a well-ventilated space.
Consult with your veterinarian if you have concerns.
Caution:
Possible skin sensitivity. Keep out of reach of children. If you are pregnant, nursing, or under a doctor's care, consult your physician. Avoid contact with eyes, inner ears, and sensitive areas
Shipping
Shipping Info:
FREE SHIPPING when you order $49 or more.
All other orders ship for $4.00.
All products ship from St. Paul, MN via USPS First Class or Parcel Select.
Typical transit times to the East and West Coasts are 2 to 3 days.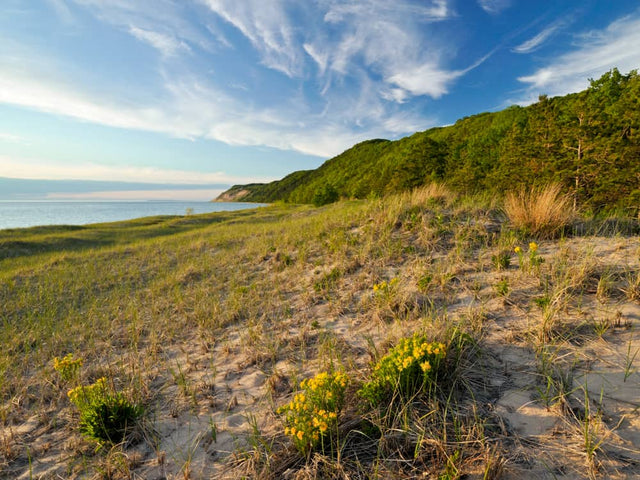 Protecting Resources and Heightening Visitor Experiences
wonderful scent <3
I knew this would be an amazing product before it even arrived at my mailbox and of course, as soon as I opened it I was gifted the foresty smells embedded in my senses from a childhood spent exploring the woods of northern Michigan. Truly an excellently crafted product. The creativity and thoughtfulness to make this unique essential oil is worth far more than its actual cost. Its a beautiful idea and smelling it makes me really happy, I use it in simmer pots. I wholeheartedly recommend this for anyone who loves the forest, and especially the very special ones lining the coast of northern michigan.
Too much post-purchase follow up
The product is great. Let the product speak for itself. Since purchase I've had seven or eight texts and emails asking me for feedback. I bought one thing. Honestly in the future I would be more likely to buy from a different company just so I don't get seven follow up texts over the next month. So maybe ease up.
Hi David. So sorry this happened! I appreciate you taking to time to give 5 stars despite a negative experience. It sounds like you got hammered with texts and emails which is not good. I would be annoyed also. Two emails and one text is the max you should have received in the 21 days since your purchase. I checked and I see you were sent more than one text. There is a glitch somewhere and I am looking correct it. I see some other customers had this happen also. You are the first to mention it. Thanks for bringing this to my attention. Again, my apologies. - Forester John ↟
Yes, Yes and Yes.
Yes it actually smells like the real forest, yes it is pure essential oil (vaporizes very well) and yes I like using it in my office to start my day. :)
Invigorating
Cant stop refilling the diffuser water reservoir i dont want to stop enjoying the scent of true forest will definitely continue buying it for foresterjohn
One of my favorites!
We love this scent. Whenever we have to "clean" the air, this is our go-to scent. We have really nasty "onion-smelling" plants outside our front door. The landlord loves them and won't let us remove them even though when they are trimmed by her gardeners they emit a horrible smell that comes inside when you open the front door. As a cancer survivor, I am very sensitive to weird smells and get headaches. Last week I asked my husband to put on the diffuser to clean that smell out of the living room and it worked perfectly in a very short time! Thank you Forester John!
Hey Margaret! I am so happy the scent of the forest is helping cover up the odd smells :) Thank YOU! - Forester John ↟
Vacation in a Drop
Yes. Sleeping Bear Dunes essential oil introduces an aura of pure woodland relaxation. Fresh and inspiring. Evokes positive memories and happy associations!
Wow! Thanks for the review Rebecca! - Forester John ↟