ProductContent
Denali National Park: Interior Alaska Spruce Forest Essential Oil Blend
$
33.00
You Save:

$-33.00

(100%)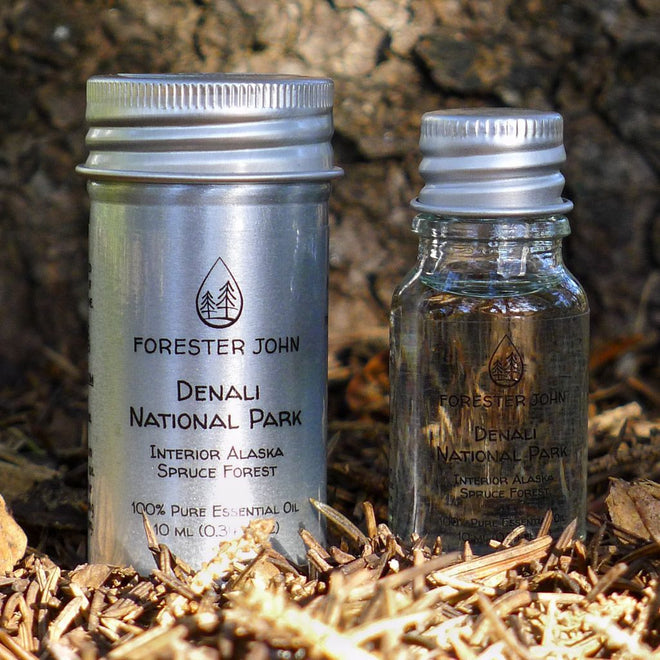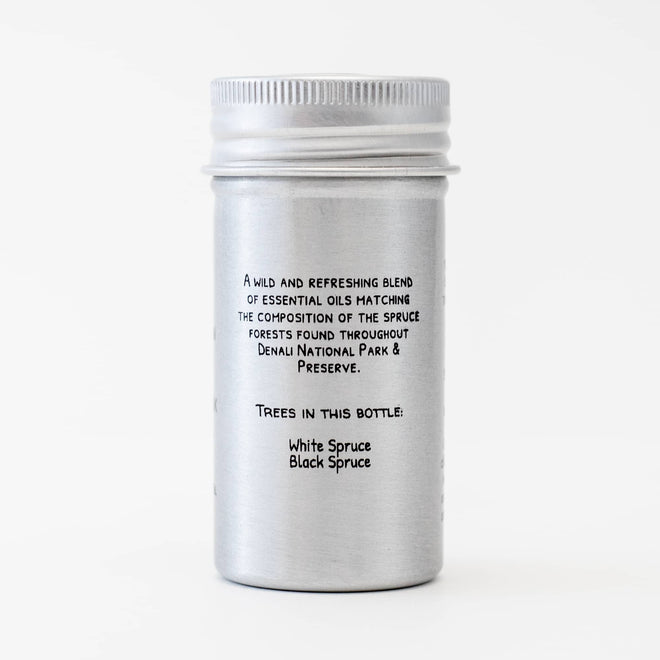 Denali National Park: Interior Alaska Spruce Forest Essential Oil Blend
$
33.00
You Save:

$-33.00

(100%)
Product Description
Description

Info

Use

Shipping
Description
Find Your Peace with the Essence of an Alaskan Spruce Forest
Want to feel a sense of connection to the wild and remote spruce forests of Alaska?
Look no further than Denali National Park – Interior Alaska Spruce Forest essential oil blend by Forester John.
This essential oil forest blend starts off with deep woody notes of white spruce and then transitions into crisp aromatic notes of black spruce.
There is even a lingering hint of citrus that will keep you coming back for more. It is the familiar scent of the forest.
The result is a sense of peace that will bring a moment of stability to a hectic day.
Welcome to the Land of the Midnight Sun! Yes!
I can't wait to see you again...
-Forester John ↟
Info
Ingredients:
Black Spruce (Picea mariana)
White Spruce (Picea glauca)
100% PURE Undiluted Essential Oil
Specs:
Volume: 10 ml
Drops per bottle: ~250
How the essential oil was made:
Through a process called steam distillation.
Hot steam is forced through needles and branches, thereby pulling out aromatic compounds from the plant into a collecting tube, where the steam is cooled and condensed back into a liquid form of essential oil.
What you'll receive:
An amazing woodsy forest scent! Your essential oil will be in a clear glass bottle with a slow-release vertical dropper.
The bottle will be in a custom aluminum carry-tube to keep it safe from breaks and to eliminate exposure to UV, keeping your essential oil fresher longer.
Use
General Use:
The most common use is for aromatics. Diffuse in your essential oil ultrasonic diffuser of choice. Start with 5 drops of essential oil per 100 ml of water and adjust up or down from there.
Google "essential oil diffuser" and you will get a ton of options, including on Amazon, for under $30.
If using topically, dilute with a carrier oil such as jojoba, argan, sweet almond, or coconut. A good starting point is 12 drops per 10 ml ( 4% solution).
Use Around Pets:
Cats are especially sensitive to essential oils and you should always be cautious if you use near pets. Most resources I have seen say you can diffuse low doses of essential oil as long as your pet can leave a well-ventilated space.
Consult with your veterinarian if you have concerns.
Caution:
Possible skin sensitivity. Keep out of reach of children. If you are pregnant, nursing, or under a doctor's care, consult your physician. Avoid contact with eyes, inner ears, and sensitive areas
Shipping
Shipping Info:
FREE SHIPPING when you order $49 or more.
All other orders ship for $4.00.
All products ship from St. Paul, MN via USPS First Class or Parcel Select.
Typical transit times to the East and West Coasts are 2 to 3 days.
Exactly what I was looking for!
These oils are exactly what I am looking for! They let me experience the forest again here at home. This is my second purchase from Forester John and it does not disappoint. I am a fan for life and will purchase more for sure. Thank you for offering such care in everything from the packaging, the delivery, the bottle design, and of course the scent!
Scent for the wilder people
I don't know what magic John is putting in those bottles, but they smell like a fresh forest mixed with freedom, mountains, northern wind & unicorn dreams. My favorite is the Denali one ( although it is hard to pick a favorite one ) - it's like taking a deep breath of fresh Alaskan mountain air while glazing on a Denali mountain range. And let's not forget about John's customer service - he is so responsive and communicative, and I always feel he genuinely cares about customer satisfaction. Thank you for your helping me with my last purchase!
So, basically, if you want to feel like a mystical forest creature roaming wild and free - you need to try these oils.
Thanks, John, for bringing the wilderness into people's homes and office cubicles.
Alaska Verified
You can't fake authentic fragrance. I gave this product the ULTIMATE test by giving local friends (all Alaskans) the task to simply close their eyes and tell me what came to mind when breathing in this scent. Everyone (!) responded "correctly." Yes, this is really (white) spruce. Genuinely impressed by the commitment to capturing authentic forest fragrance. Truly amazing product.
Fresh, natural scent
We loved this essential oil. Use it in our diffuser and in our sauna. Very authentic and natural.
wonderful!
All of the Forester John oils are great! I've never been to Alaska but this Denali blend was one of my favorites from the sampler pack. It has a rich, forest smell to me! All of the oils pull me back to the forests and nature! I especially enjoy them when I feel stressed and need calm.
This was a gift for a my aunt who loves Denali and has done some photography work there. She loves it and it brings her right back to Alaska!