ProductContent
Boundary Waters Canoe Area: Bedrock Conifer Forest Essential Oil
$
33.00
You Save:

$-33.00

(100%)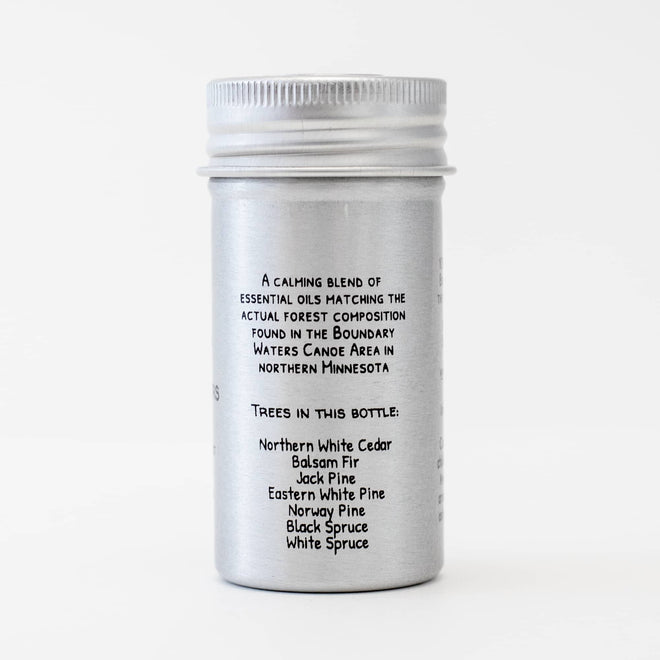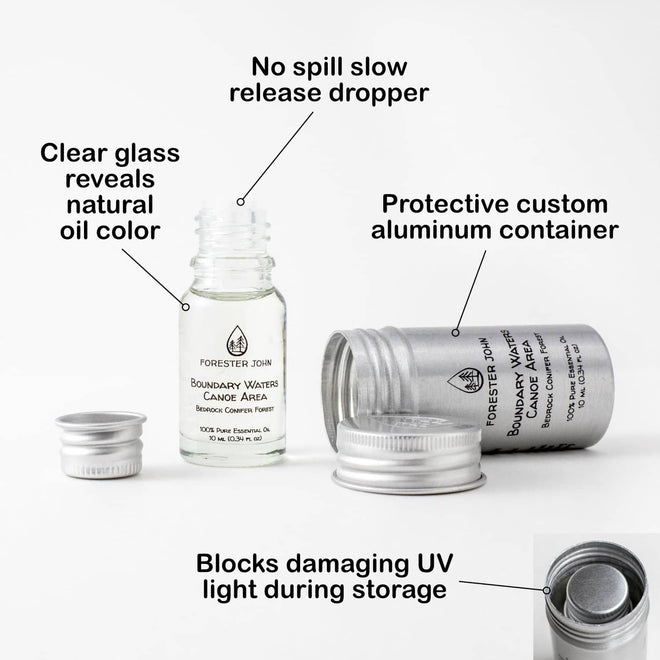 Boundary Waters Canoe Area: Bedrock Conifer Forest Essential Oil
$
33.00
You Save:

$-33.00

(100%)
Product Description
Description

Info

Use

Shipping
Description
Go Back to Your Peace and Calm
Do you remember that woodsy smell from your campsite?
The ratio and species of trees in this essential oil was thoughtfully crafted to mimic the forest composition of what you would typically find growing in the Boundary Waters Canoe Area (BWCA).
If you have ever been to the BWCA you may have noticed that the lakes are often lined with northern white cedar trees.
I made sure to put a good dose of cedar essential oil in each bottle to capture that calming smell.
Throw in some pine, spruce, and fir and you are right where you need to be.
Just for you;)
-Forester John ↟
(Did you hear the loon?)
Info
Ingredients:
Northern White Cedar (Thuja occidentalis)
Balsam Fir (Abies balsamea)
Jack Pine (Pinus banksiana)
Eastern White Pine (Pinus strobus)
Norway Pine (Pinus resinosa)
Black Spruce (Picea mariana)
White Spruce (Picea glauca)
100% PURE Undiluted Essential Oil
Specs:
Volume: 10 ml
Drops per bottle: ~250
How the essential oil was made:
Through a process called steam distillation.
Hot steam is forced through needles and branches, thereby pulling out aromatic compounds from the plant into a collecting tube, where the steam is cooled and condensed back into a liquid form of essential oil.
What you'll receive:
A grounding experience! Your cedar essential oil will be in a clear glass bottle with a slow-release vertical dropper.
The bottle will be in a custom aluminum carry-tube to keep it safe from breaks and to eliminate exposure to UV, keeping your essential oil fresher longer.
Use
General Use:
The most common use is for aromatics. Diffuse in your essential oil ultrasonic diffuser of choice. Start with 5 drops of essential oil per 100 ml of water and adjust up or down from there.
Google "essential oil diffuser" and you will get a ton of options, including on Amazon, for under $30. 
If using topically, dilute with a carrier oil such as jojoba, argan, sweet almond, or coconut. A good starting point is 12 drops per 10 ml ( 4% solution).
Use Around Pets:
Cats are especially sensitive to essential oils and you should always be cautious if you use near pets. Most resources I have seen say you can diffuse low doses of essential oil as long as your pet can leave a well-ventilated space.
Consult with your veterinarian if you have concerns.
Caution:
Possible skin sensitivity. Keep out of reach of children. If you are pregnant, nursing, or under a doctor's care, consult your physician. Avoid contact with eyes, inner ears, and sensitive areas
Shipping
Shipping Info:
FREE SHIPPING when you order $49 or more.
All other orders ship for $4.00.
All products ship from St. Paul, MN via USPS First Class or Parcel Select.
Typical transit times to the East and West Coasts are 2 to 3 days.
buy now
Protecting, preserving, and restoring wilderness character
Office coworkers all stop in my office
When I first started working in the office, all my coworkers stopped by to smell the great outdoors and everyone wanted to know what smelled so good! Had a chance to tell them about the oils and the research that shows ( from the book THE NATURE FIX) that the smell of certain trees helped lower blood pressure and increase killer T cells…. That's a win in my book! Plus, I feel like I'm in the forest instead of my sad little box of an office
Hi Anthony. Thank you for the nice review! I am glad these help you feel like you in the forest while in the office. The Nature Fix is a great book! - Forester John ↟
Backyard Sauna
We use this scent in our sauna. Since we live in the middle of a busy, noisy city, the scent of the treasured Boundary Waters Wilderness rising in the steam helps us feel calm and happy.
A rollercoaster of emotions!
First, I was shocked by the price tag. But the reviews, plus a past promotion swayed me in. It all made sense when I opened my first delivery. The smell that comes out of these lil bottles is incredible. Nature. Camping. Forest. That feeling you get when you wake up in your tent, in the middle of nowhere. If you could condense forest smell into a liquid, you would get just that. No disappointing chemical smells, weird fillers, fake "woodsy" scents = just pure bliss of God's nature. I don't know how you do it, man, but it is pure magic. First I ordered a sample kit, then a big bottle of Hoh Rain Forest ( to relive some sentimental hikes in that area, years back ) and now I am on the bedrock conifer forest. I.can't.get.enough.of.it. Each bottle lasts me about 3-4 months with moderate use. Yes, I understand. They cost 3x what you will pay on amazon or whatever, but nothing - and I mean it - nothing comes ANYWHERE close to FJ bottles of magic. It is worth it, and you should stop reading and just buy it. ( maybe start with a sample pack first? ).
Also, the packaging is super dope. You will understand when you get it :)
Home
The Boundary Waters blend smells like home! The northern Minnesota memories of hiking the trails, taking in all the beauty and freshness, and the excitement of the wildlife that share this land with us!
Memories
The oil is great! Reminds me of those many wonderful canoe trips in the Boundary Waters. Thanks, Forrester John for making it.
In memory....
I bought the Boundary Waters oil in memory of my husband, John, who passed aways in 2011. Twice he traveled into the Boundary Waters alone in a canoe for nearly one month each time. He left his spirit there. With this oil, I like to imagine I can spend some time with him in those sacred northern woods and lakes. I love this essence of those trees.