ProductContent
Sax-Zim Bog: Spruce-Tamarack Forest Essential Oil Blend
$
34.00
You Save:

$-34.00

(100%)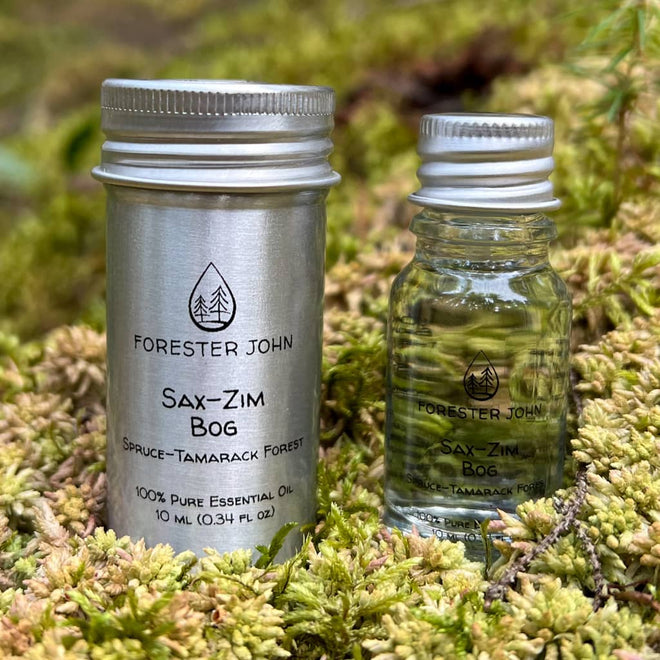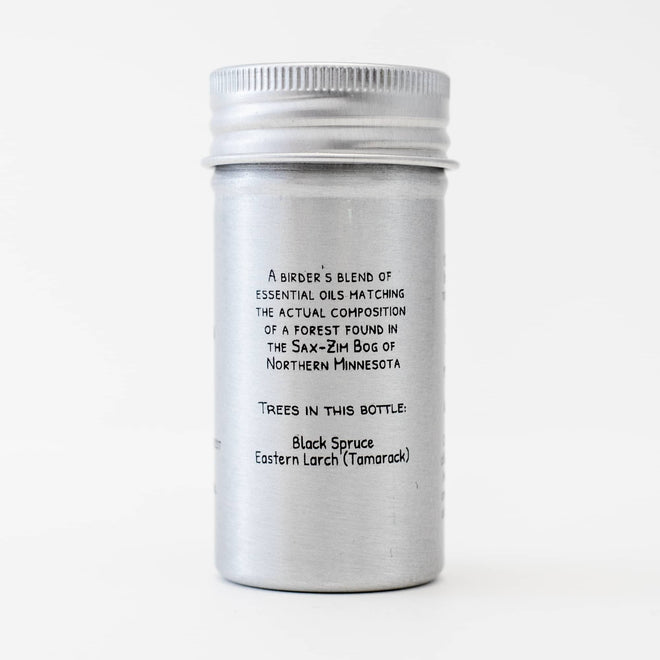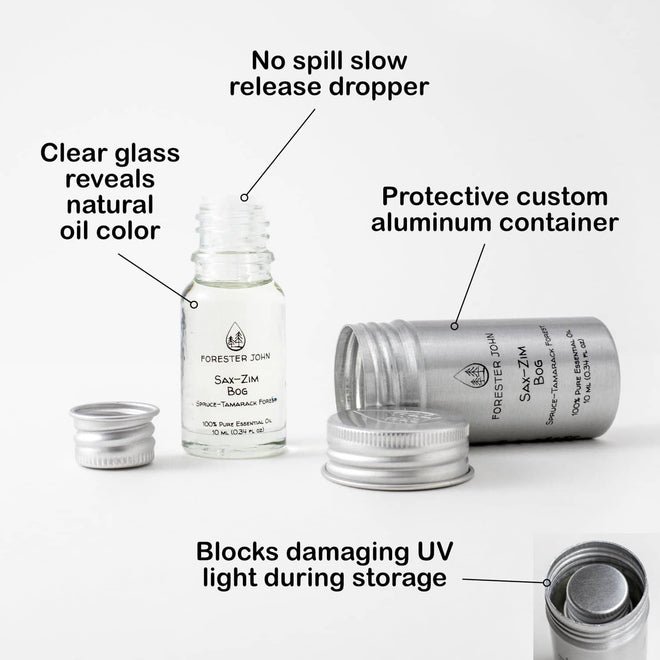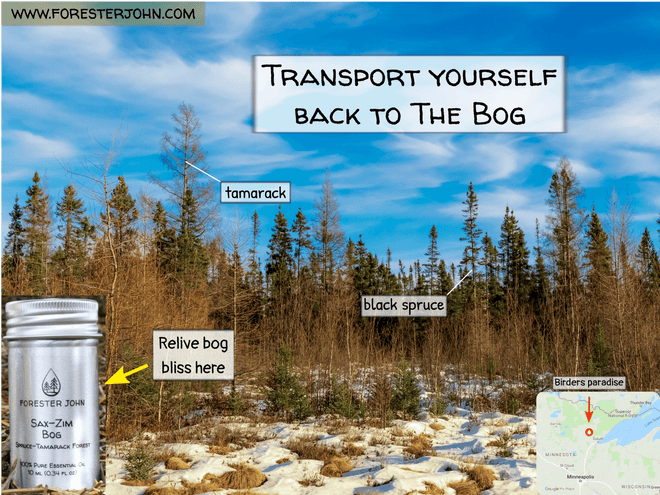 Sax-Zim Bog: Spruce-Tamarack Forest Essential Oil Blend
$
34.00
You Save:

$-34.00

(100%)
Product Description
Description

Info

Use

Shipping
Description
A Forest Scent for Bird and Bog Lovers
If you have never experienced the stillness and solitude of a black spruce and tamarack bog you are missing out.
This tamarack-spruce essential oil blend is crafted to match the lowland conifer forests that can be found in the Sax-Zim Bog located in Northern Minnesota.
This forest provides ideal habitat for many species of birds making the bog a well-known area for birders.
The earthy scent of the tamarack essential oil works beautifully with the sweet-smelling black spruce essential oil.
The result is pure bog magic.
What are you waiting for?
-Forester John ↟
(There's an owl!)
Info
Ingredients:
Black Spruce (Picea mariana)
Tamarack, or Eastern Larch (Larix laricina)
100% PURE Undiluted Essential Oil
Specs:
Volume: 10 ml
Drops per bottle: ~250
How the essential oil was made:
Through a process called steam distillation.
Hot steam is forced through needles and branches, thereby pulling out aromatic compounds from the plant into a collecting tube, where the steam is cooled and condensed back into a liquid form of essential oil.
What you'll receive:
A beautiful earthy scent! Your essential oil will be in a clear glass bottle with a slow-release vertical dropper.
The bottle will be in a custom aluminum carry-tube to keep it safe from breaks and to eliminate exposure to UV, keeping your essential oil fresher longer.
Use
General Use:
The most common use is for aromatics. Diffuse in your essential oil ultrasonic diffuser of choice. Start with 5 drops of essential oil per 100 ml of water and adjust up or down from there.
Google "essential oil diffuser" and you will get a ton of options, including on Amazon, for under $30.
If using topically, dilute with a carrier oil such as jojoba, argan, sweet almond, or coconut. A good starting point is 12 drops per 10 ml ( 4% solution).
Use Around Pets:
Cats are especially sensitive to essential oils and you should always be cautious if you use near pets. Most resources I have seen say you can diffuse low doses of essential oil as long as your pet can leave a well-ventilated space.
Consult with your veterinarian if you have concerns.
Caution:
Possible skin sensitivity. Keep out of reach of children. If you are pregnant, nursing, or under a doctor's care, consult your physician. Avoid contact with eyes, inner ears, and sensitive areas
Shipping
Shipping Info:
FREE SHIPPING when you order $49 or more.
All other orders ship for $4.00.
All products ship from St. Paul, MN via USPS First Class or Parcel Select.
Typical transit times to the East and West Coasts are 2 to 3 days.
Lovely!
I bought this for my husband, who is a fellow Bog Buddy. He's usually not too interested in essential oils, but after smelling the Sax-Zim Bog blend, he was absolutely delighted! Particularly during a Minnesota winter, it's nice to have a fresh pine scent in the air that is not an overly processed candle. I also appreciated the packaging - 100% biodegradable yet protected the product perfectly. Thanks for your work and passion!
I can smell the cold.
I so love winter, and winter birding in Sax Zim Bog. This scent brings me there, far away from the strains of my urban life.
Reminds me of home
Since I now live in the Sonoran Desert - this reminds me of home. I wear it on a lava bead diffuser bracelet along with rose essential oil.. truly it reminds me of home.
Hi Helen. So glad to hear that this blend reminds you of home! Thanks for the review. - Forester John ↟
A Natural Scent That Lives Up To Its Promise!
I was looking for an essential oil that would help put me in mind of a favorite activity (to get through long days of working from home). I came across Forester John's website and was impressed with the mission and the range of products.
The Sax-Zim Bog essential oil intrigued me because I hike in the Ramapo Mountains of NJ, home to many a swampy area! The oil was what I had hoped for - and more - a clean, natural scent that immediately puts me in a better frame of mind!
I've recently purchased the Acadia National Park essential oil and am delighted with that as well.
I cannot recommend Forester John and his wonderful product enough!
Hi AnnMarie. I am happy that the forest scents are helping you get through your work day. Thanks for the review! - Forester John ↟
I have used all of Forester John oils, with the exception of Christmas Tree Lot, and love all of them.Each one reminds me of a different place in the forest during a different season of the year. Sax-Zim Bog reminds me of walking on a dirt path as it has a more earthy scent. I will only use Forester John's tree and outdoor oils from now on.
Hi Terry. I like your description of the scent. Dead on! Thanks again for the review :) - Forester John ↟
Quality Oils
I love the quality of these oils from the packaging to the scents themselves! Bought many as gifts for family, who also loved them. My mom still raves about them months after receiving! The bog is one of my favorites along with olympic. Recently opened the sampler pack and finding new favorites to order. Highly recommend! Helps you relax and takes you, family, and coworkers straight to the forest!
Thank you for the review Heather. I am glad you and your family are enjoying them :) - Forester John ↟